I didn't think I'd ever be here again.
Landed in Paris with 43 students and 4 staff.
We've been to the Louvre twice,
The Latin Quarter for a lunch and group dinners,
Picked the statue of Charlemagne at Notre Dame as a meeting spot,
My fave building, the Pantheon,
We've done group discussions on Great Expectations,
Lunched on Rue Mouffetard,
Had lectures about and form, content, context, and great writers,
Monmartre, with a group photo at Sacre Couer and then crepes,
They've written in their journals about their own great expectations,
The Pompidou museum featuring the most traumatic art I have seen there yet: photos of Austrian genital mutilation, a video of a naked woman razoring the star of david onto her belly, a hauntingly life-like mannequin of Hitler with real hair (I had to look away because I thought I saw it move. Seriously, this thing had pores. Also it was alone in a room. Creepy. Kneeling, facing the wall so you had to walk around to see the face...)
I've fiddled with about thirty laptops to bring our digital coursepack to life (including a tiny ASUS that's running linux!)
We've had a one-on-one talk with each student about the English course, what they feel about their writing, and they just handed in an assignment designed for that specific individual to develop a particular skill.
I spotted some nice graffiti. Quality stencils of the Dalai Lama and Gandhi.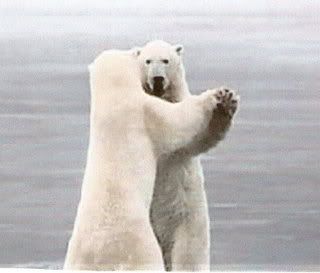 I was happy to see that they had spectacular poster sized photos from around the world placed on the gates of the Luxembourg Gardens: lava, ladybugs, airplane crashes, soldiers, farmers -
there's even a picture from Canada, it's off two polar bears dancing.
We've been here two and a half days.
I take pride in overhearing students say how it feels as if we've been here for a week.